NOTE – This interview was published in the printed edition of the Film Information trade magazine in the issue dated 16th November 1996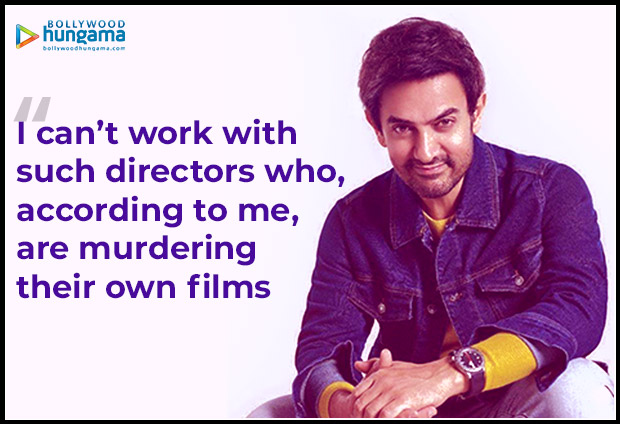 In this interview taken in two sessions (and this had nothing to do with Aamir being slow) — one in the afternoon and the other, the same night –  at Aamir's house, the actor talks on a variety of subjects including his career, his style of working, his likes and dislikes, his contract with ABCL, his views on star ceiling and on the ever-increasing star prices etc.
Why do you, at any given time, act in such few films?
There are three main reasons for this. It is the only practical way of working. Today, to make a quality film, a director would require about 100 days of a lead artiste. In a whole year, there are about 300 shooting days, which means that the practical truth is that you can complete a maximum of 3 films in one year. If I wasn't bothered about my producers and their financial equation, I could have also signed more films. Had I been doing 6 instead of 3 films at a time, I'd take two years to complete a film, and if I was working in 9 films simultaneously, it would be an average of three years per film. But I'm never in favour of a delay. If a film does not get delayed, the producer is financially secure, the director is charged, and the quality of the film is definitely superior. Besides, I don't think I can mentally fit in more than 3 films at a time, I'm used to this style of working only. I also choose my directors carefully. My directors do only one film at a time. Dharmesh Darshan's is the only exception — he is directing Dhadkan and Mela simultaneously. But, otherwise, most of my directors also believe in working with concentration, whether he is Indra Kumar or Mansoor Khan. After all, a director's job does not end with completing the shooting, he is also responsible for the dubbing, mixing, sound effects recording, publicity campaign etc. There are so many directors who don't attend their own music sittings, who don't go for their song shootings and action shootings. I can't work with such directors who, according to me, are murdering their own films.
If you are so particular about the directors you work with, how does Mahesh Bhatt, who is known for making four, five and six films at a time, fit in your scheme of things?
No, he doesn't. I've done Hum Hain Rahi Pyar Ke and Dil Hai Ke Manta Nahin with him but I've realised, I won't be comfortable working with him now. That's why, when he and I came together for Mukesh Bhatt's Ghulam, I explained my predicament to him. I told him, I wouldn't be able to work in any way different from my style because it doesn't suit me mentally. That doesn't mean that I don't respect Mahesh Bhatt's style of working, everyone is entitled to work the way it suits him, I'm nobody to pass judgement on that, but I can definitely decide about whom I will be comfortable working with and whom not. Mahesh Bhatt saw my view point and he decided to hand over the project to Vikram Bhatt instead.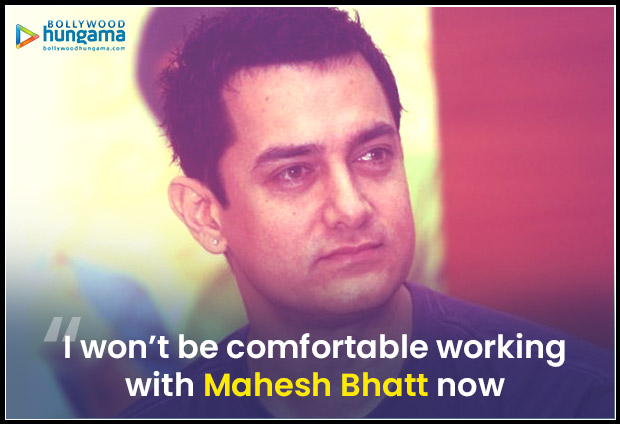 Aren't you indirectly dictating terms to directors on how they should be working?
No, I'm not. Believe me when I say, this is the only way in which I can work. I am from a film family and I've seen my uncle (Mr. Nasir Husain) and dad work. They were passionately involved in their films when they made them. My dad always made only one film at a time. Locket and Dulha Bikta Hai are the only two films which were on the sets together, but even there, he started Dulha Bikta Hai because Locket was stuck up. I've heard that our seniors like B.R. Chopra Sahab, Yash Chopra Sahab, Shakti Samana Sahab — all the greats — attended every department of filmmaking. I've grown on films and my honest feeling is that this is the way films should be made.
Is that the reason you cannot work in two-hero subjects? Because you may expect the same kind of involvement from your co-stars too.
What you say is incorrect. I've worked in several two-hero or multi-hero projects like Aatank Hi Aatank, Parampara, Andaz Apna Apna and others. I have no qualms at all about working in such films. When I have to decide on signing a film, I hear the script, I don't count the roles. Irrespective of whether there are two or more heroes or it is a solo-hero subject, if I like the subject, I don't shy away from the project because I think, it is the film which is above all else. And why do you say this only about my co-hero, lack of involvement can come from a female artiste, any character artiste or even a technician of the film. And that's precisely the reason why I choose my directors so carefully. Because it is he who has to captain the ship and lead us. We all have to obey him. As regards lack of interest of a co-star, how can I help that? That could happen at any stage of the film's making because the system in which we make films is such.
To be continued…..
Also Read: Aamir Khan postpones Laal Singh Chaddha to April/May 2022; will clash either with KGF 2 or release on Eid
BOLLYWOOD NEWS – LIVE UPDATES
Catch us for latest Bollywood News, New Bollywood Movies update, Box office collection, New Movies Release , Bollywood News Hindi, Entertainment News, Bollywood Live News Today & upcoming movies 2021 and stay updated with latest hindi movies only on Bollywood Hungama.